Galatas is the sistertown of Poros. They have thier own mayor and their own council. Galatas is developing its character and is being more and more independent of Poros. Galatas has a nice waterfront where you can sit down and eat or have something to drink. There are many cafés, bars and restaurants, and a nice view over Poros. In Galatas they say that "the best with Poros is the beautiful view". Specially at nighttime with all the lamps, and the lights from Poros reflecting in the sea. In Galatas everything is a little cheaper than on Poros. They have not developed the tourism as much as Poros has. Here the time stands still. It is more genuine Greek. You go to the market and buy your vegetables, you go to the bakery in the morning and buy your breakfast bread, baked in the old fashion way. The people lives on growing olives and citrusfruits. Many foreign labour is working on the farms. There are a few small industries.

*Russian culture school visiting Galatas *Nameday of a church
*Party at Aghios Georgios *Nameday of the church in Lemonodassos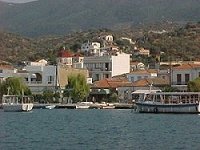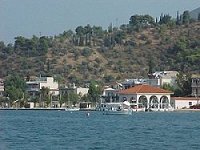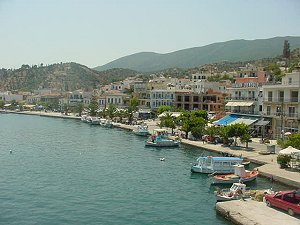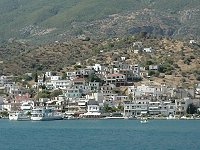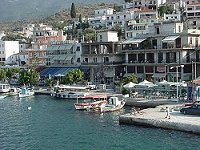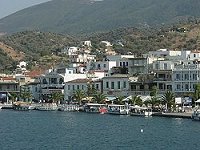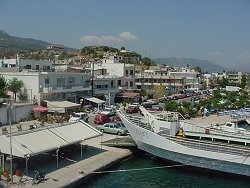 At the waterfront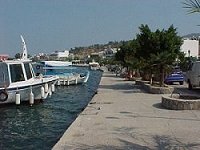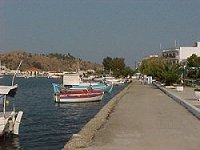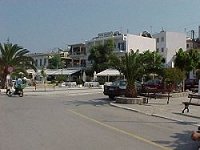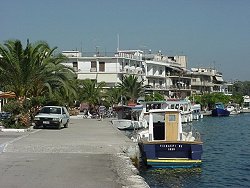 Mainstreat in Galatas
Photos taken during the siesta
It is very quiet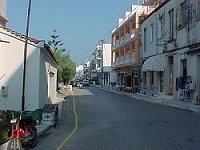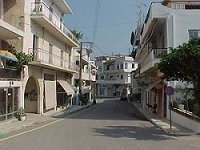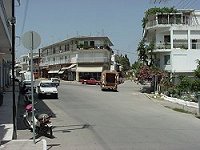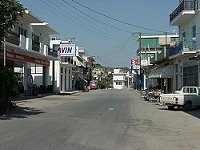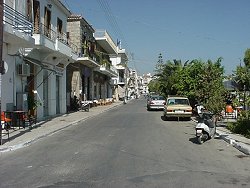 Galatas health-center
Tel: +30 22980 / 22 222
Here you can have smaller injuries looked after.
Closest hospital is in Napflion.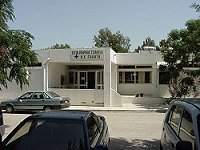 BEACHES
There are no beaches in center of Galatas. The best and the closest are on the road east of town. The first little beach is about 1,3 kilometers from center of Galatas. It is named Bouja. It is only a small beach. There is no taverna or bar or even a kiosk. Just a small beach where you can swim. Sandy bottom.
Next beach you come to is Plaka, about 2,2 kilometers from center of Galatas. I think this is a nice little beach. Sandy bottom, a pier where children jump from. There is a nice little taverna where you can have something to eat. The day I took this photo it was cloudy.
The last beach within reasonable distance is Aliki. This is perhaps the best beach in the area. It is about 3 kilometers from center of Galatas. Here you have the most shallow beach. They have two tavernas, a watersport-center, and a pool. It is possible to go here by taxi-boat. I have more photos from Aliki on my page about beaches: Aliki
More photos from Galatas


Agia Anna
at the western way out




Agios Nikolaos
The cathedral in center of town




Papa Giannis





Monument over men killed at war




Market




Back